October 23, 2015
travel
fallfoliage
Fall Foliage, Day 37 - Thomaston and Hartford, Connecticut
Christian wound up coming inside this morning to warm up, since the sleeping bag by itself wasn't quite enough insulation.
When I woke up I started baking cinnamon rolls, then got inspired by the fresh fruit on the counter to make a little salad, then carved one of the extra apples… and by the time Christian was awake he had a fancy breakfast plate waiting for him.
#skills
We had a little work time for email/blogging, then we left the park for our swing dancing lesson at the Fred Astaire Studio that just so happened to have a great deal running. I've been missing ballroom dance for a while, and Christian saw a video from the Montreal Swing Riot of swing dancers vs. street dancers, each dancing to the other's normal style of music, that inspired him to learn swing dancing.
We headed north to South Street in West Hartford to learn East Coast Swing. Alexei was our instructor, and he helped us jump (literally at one point) right into East Coast. I had told the lady on the phone when I scheduled about our experience levels, and she must have passed on the information because Alexei used some great comparisons to other dances. For example - the delayed timing of samba when triple-stepping; the pendulum "swing" instead of jive's "sewing machine" up-and-down"; and the difference between American style "bent knees" and International straight knees.
After learning the basic and getting some good tweaks, we learned the shoulder roll, a jump/pull-through combo, and another jump/push off the leg.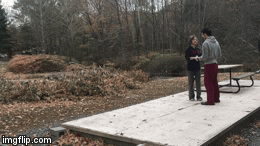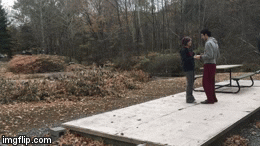 Alexei declared us ready to dance, jokingly threatened to let the air out of our tires so we would have to stay in Connecticut, and then sent us on our way.
Our way was to a Halloween superstore to keep working on our costumes (the plan is to be in New York, possibly the City, on Halloween itself).
Then we stopped by the Barnes & Noble in Blue Back Square (basically the Southlake Town Square of West Hartford) to get a bit of wifi and Neil Patrick Harris' autobiography.
For dinner, we went to a pretty hole-in-the-wall-y Korean restaurant - Pick N Mix, specializing in build-your-own bibimbap bowls (say that 10 times, fast!)
insert bad pun about "me so (adjective)" here
Christian's sweet potato noodles with spicy chicken, loaded veggies, and hot sauce + sesame oil
My brown rice with bulgogi beef, loaded veggies, and chef's choice not-spicy sauce
Then it was back to the park for evening work/wind-down.