October 24, 2015
travel
fallfoliage
Fall Foliage, Day 38 - Thomaston and Hartford, Connecticut
This morning we slept in after watching a movie last night/reading about Neil Patrick Harris and watching his various performances. I highly recommend his autobiography if you like him, HIMYM, amateur magic, coming-of-age/coming-out stories, or show biz in general. There was a lot of cool behind-the-scenes info on his various roles and appearances, and I genuinely enjoyed the insight into his life decisions and lifestyle.
Christian was very excited to get our new slackline delivered, so he set it up this morning and started practicing.
Set-up
We also did a little review of our newly-learned swing dance moves from the lesson yesterday.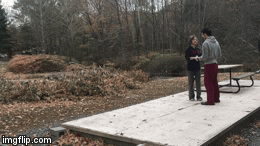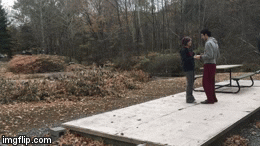 During some of our work time, I caught up on blog posts, including a checklist of states we've visited, departure checklist, and one-month solar set-up review.
For dinner we made appetizer-y snack food. Christian cooked up the chickpeas we'd been soaking and blended them into some hummus (+ tahini, lemon juice, salt, garlic powder):
Garlic hummus
I was inspired by a recent imgur post and decided to make Spinach & Artichoke Dip Garlic Bread. It deserves every last one of those capitalized letters.
The dip (Tofutti non-dairy cream cheese, frozen spinach, chopped artichoke hearts from a jar, some mayo, + garlic powder/Italian herb mix/salt
Dip stuffed into a hollowed-out baguette and topped with COPIOUS amounts of goat butter + garlic powder/Italian herb mix
hrnng
Then we gussied up and drove into Hartford (technically Wethersfield but close enough) for a "swing jam" aka dance session where we were extreme outliers on the age scale. There was a short lesson first, then the lights were turned down and we got to dancing! It was a blast trying to figure out new moves, doing completely sloppy footwork on the dances we already knew (sorry cha cha), and having no idea what was happening during the Shim Sham.
When we got back to the RV we had a little more work time before bed.