November 19, 2015
travel
holidays
Home for the Holidays, Days 1 - 12 - Dallas, Texas
You may have noticed that the trip title has changed - the fall foliage trip is essentially over, and the next route will be over the holiday season.
I didn't take the time to go into as much detail over these two weeks, but here's a general summary of our activities:
spending time with family and friends

playing cards
Thanksgiving!
Homemade Crunchwrap Supreme from Game Night with Trevor/Moses

spending time with family/friends (cont'd)

brunch with Ricky, Rob, and Tim (and Tim's dad and sister who were also coincidentally there)
Top Golf with Rob and Tim
Mellow Mushroom (and a tour of Edible Arrangements) with Steve

spending time with Alfie

Checking out local dog parks
Getting a clean bill of health from the vet
First grooming and subsequent outfits (see below)

Definitely not just a poodle - the ears look Schnauzer/poodle-ish

Training basic obedience and fetch - he shows an interest in toys now which makes me think he must be feeling better
Finding an engorged tick on the ground
Going for a walk with Sophia, Justin, and Genevieve the Goat

getting our new Hennessy Hammocks and a much-delayed raincoat for Alfie
finally joining Snapchat
dropping my phone at the dog park leading to a broken screen two days before our flight
getting my phone fixed at a less-sketchy-than-average-but-still-pretty-sketchy place across the street one day before our flight
planning for the drive back to Dallas for Christmas
Alfie's Outfits
He left Baltimore with a winter jacket (fleece liner and water-resistant shell).
He came back with:
A red Fair Isle sweater with matching boots (for cold hikes)
Tuxedo collar and cuffs

A rain coat:
Poor doggies <3 #sorryimnotsorry #raincoatcouture #werkthehallway #likearunway

Posted by Elisa Farrell on Tuesday, December 1,

2015


Not pictured: a pumpkin costume and Halloween bow-tie.
Alfie's First Fetch
I taught Alfie how to play fetch - previously with a tennis ball he would go to it after it was thrown and then chew on it, but not retrieve. I tried it with a different (smaller diameter) toy and after a little coaching he was fetching like a pro!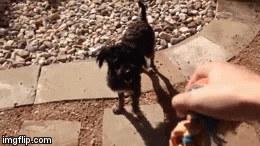 We started with him chasing after it, chewing on it a bit, then dropping it and coming back to me. Eventually he brought it with him partway, getting lots of praise from me, until he finally brought it all the way back after a throw. I also had him sit before each throw, and practice dropping it nicely upon return.